Familjen Bra: Support for Ukraine
14.04-14.04

The ticket income for Familjen Bra 14.4.2023 will be donated to the organisation Ukrainalaisten yhdistys Suomessa (link to their homepage).
Before the performance, at 18.00, we will organise a discussion with the Ukrainian playwright Vitaliy Chenskiy, who will talk with Viirus' managing director and director of Familjen Bra Jussi Sorjanen about how war and crisis affects art.
Chensiy is from Mariupol and used to be an engineer at the Azovstal steel factory before pursuing his dream of being a writer. You can read more about him and his work in Tinfo's interview (link to the interview in English).
Chenskiy is currently in residence in Hailuoto outside Oulu and is very happy for the opportunity to meet us and the audience and to share his experiences and discuss his work. The discussion is curated by Viirus' audience worker Marja Vuori and is free of charge.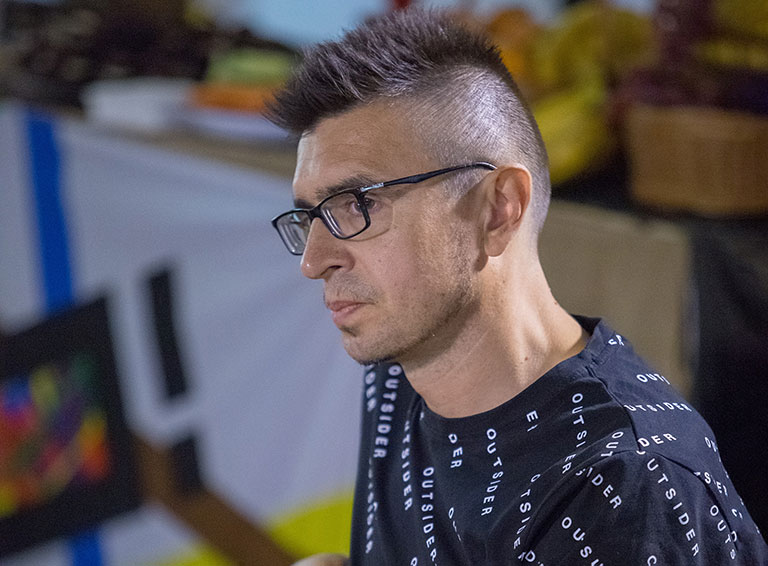 Familjen Bra, then and now
When we put up Familjen Bra in 2020 we did it as a reaction to the changed world situation. The pandemic had closed society and families around the world bunkered up in their homes, both figuratively and literally.
Now, a year after Russia started its full scale invasion of Ukraine, we see the bunker that we have built in our theatre in a different light. The bunker, the crisis that the family escapes from and the unity that keeps them alive is no longer only theatre.
It is impossible for us to perform Familjen Bra without considering the brutal reality that so many families have faced during the last year and still do, every day. That is why we will support Ukraine in different ways during the spring.
Apart from the direct donation through the support performance, we will sell blue and yellow support bands for 5 € / st (länk till hemsidan) in our bar. This income is also directed to Ukrainalaisten yhdistys Suomessa ry.
We also encourage you, the audience to keep supporting Ukraine, e.g. through these organisations:
Ukrainalaisten Yhdistys Suomessa ry (permit RA/2022/388).
Your Finnish Friends ry, the organisation supports Finnish volunteers in Ukraine with protective gear and equipment (permit RA/2022/1753 / MobilePay: 32099).
SEY Suomen eläinsuojelu, helps animals in Ukraine and that have fled Ukraine with their families (RA/2020/1367).